A Short Recap Of Our Seattle Trip | Nunley Adventures
we woke up at 4 AM to head to the airport.
I was so excited that I had already packed everything days before we left. All I had to do was get dressed and grab everything by the door... so I was confused about why my iPad was no longer in my bag after we went through security. Turns out, I had dropped it outside the airport (Ya'll. This is my life.) and someone turned it into security. Lucas found it before we boarded (and won the best husband ever award...for at least the hundredth time), and the crisis was averted. :)
It's fun flying with a pilot husband, because he actually knows what's going on and what we're flying over. He pointed out crater lake to me, which I would have never noticed on my own. He's a keeper.
When we arrived, the first place we headed was Pike's place market.
It was Saturday, and we underestimated how packed it would be. We ate lunch there, walked around for a minute, then became so incredibly intimated by the sheer number of people that we decided we would come back another day.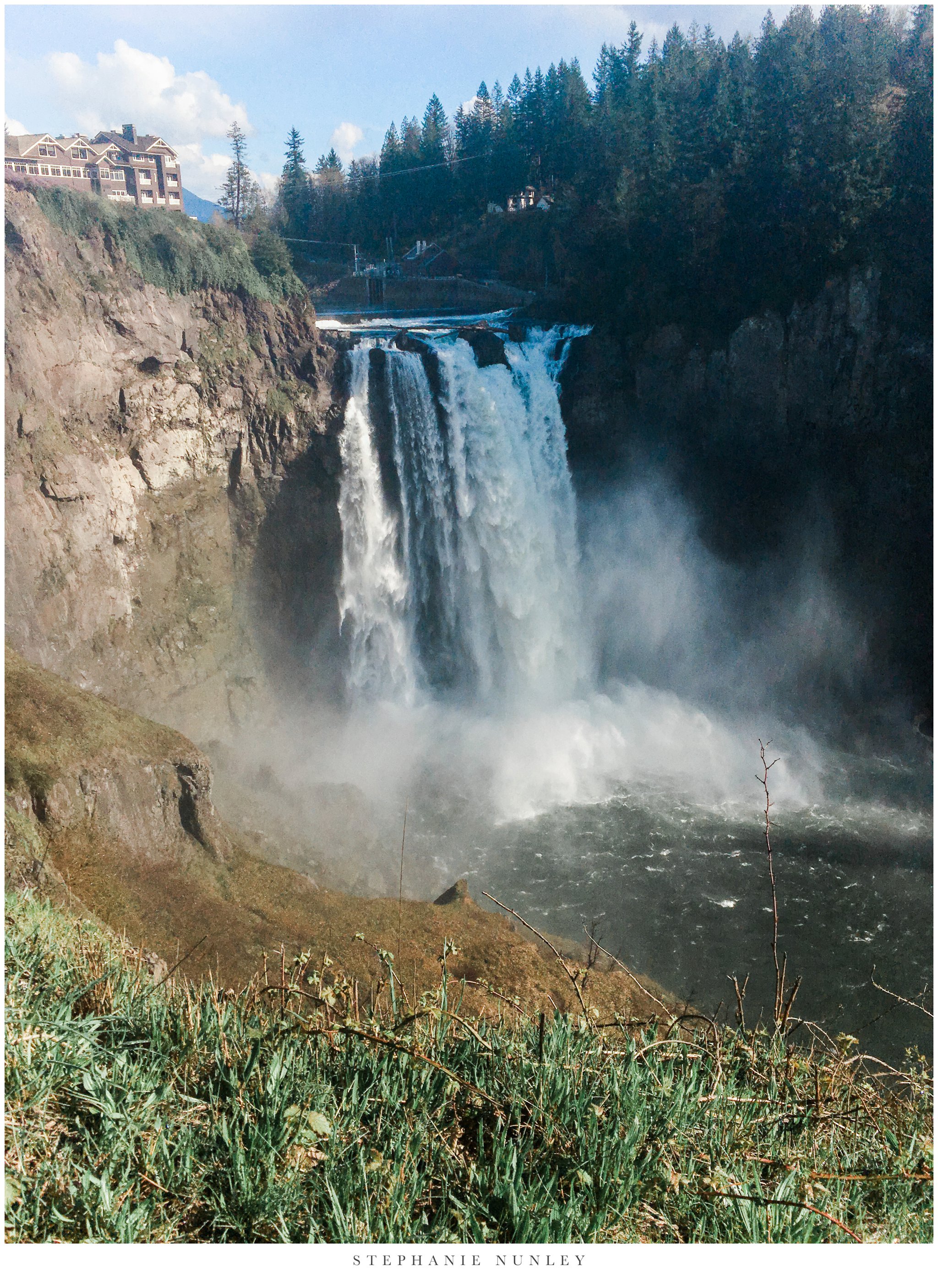 So we drove & Drove & found some nature.
We ended up at Snoqualmie Falls, and since all my stuff was still packed and in the trunk, I didn't even think to bring my camera. Which was really too bad, because this iPhone photograph really doesn't do it justice.
And a few days later, I realized that this is the waterfall that's heavily featured in Twin Peaks, which made me love it even more. ...And it also made me really confused about how I didn't realize this at the time.
Before we left, we hiked a trail down to the base of the waterfall, checked it out, then ate dinner before heading to our airbnb and calling it a day.
The Troll Under the Bridge
On Sunday, while we were walking from our airbnb to the store to purchase bus passes, we stumbled across this. I didn't even know it was a thing.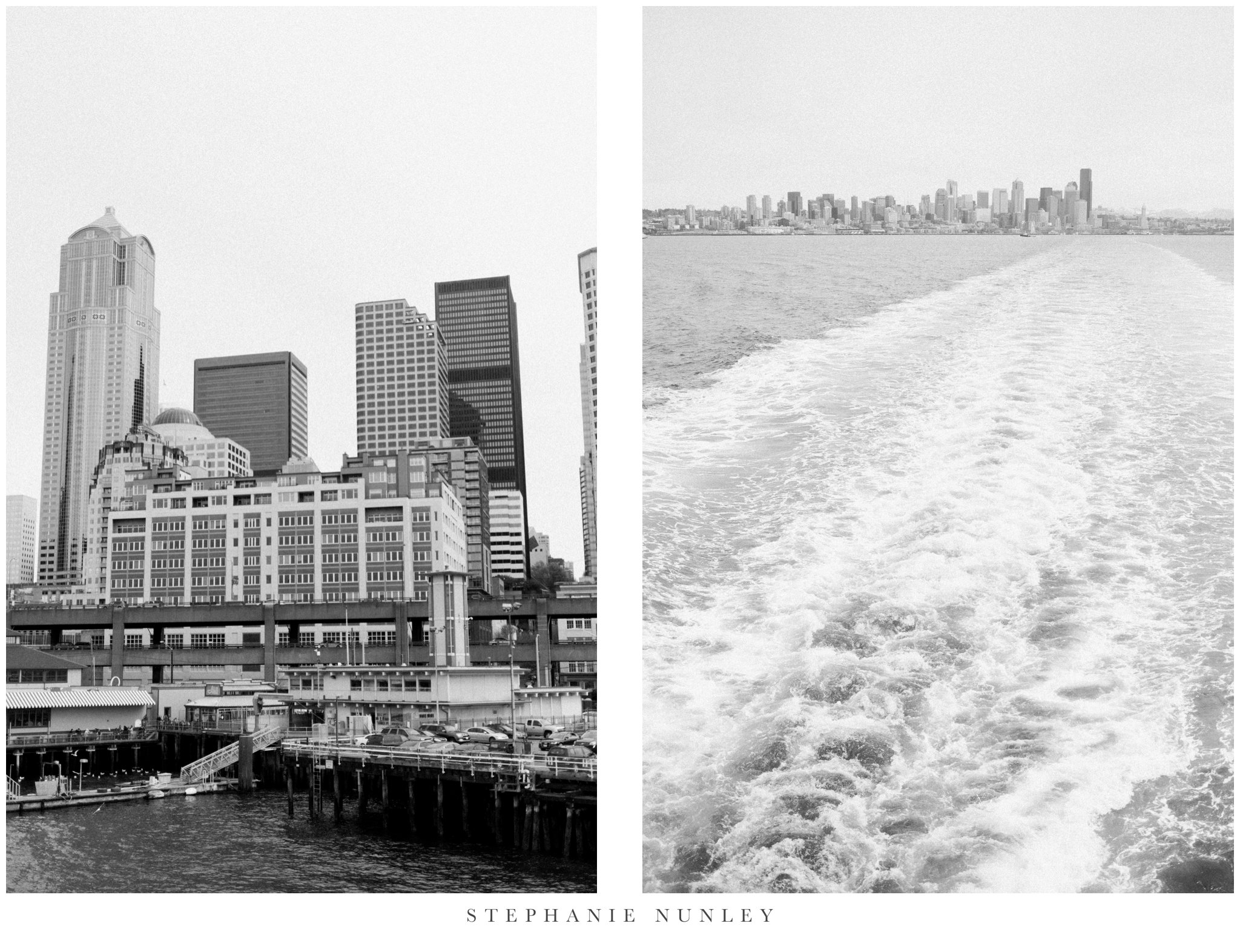 Then we took a Ferry ride to bainbridge island.
With our newly acquired bus passes, we headed downtown and took a ferry ride over to Bainbridge Island for lunch. We underestimated how cold is was going to be and pretty much froze, but it was a fun experience to see Seattle from a different perspective.
... And eat crepes and ice cream. You really can't go wrong with that.
On Sunday, we walked over 8 miles, and we were so tired by the end of the day that we took it easy that evening and on most of Monday.
On Monday, we wandered aimlessly through town.
We drank lots of coffee, ate seafood, and wandered aimlessly for most of the day. We stumbled across the Starbucks Reserve, which honestly just felt like it was trying to be a version of a local coffee shop we have in Northwest Arkansas. It made me appreciate the quality of local coffee we have here at home, and the fact that we're probably one of the most hipster locations in the midwest. :)
That night, it rained, so we stayed at in and ordered takeout (because amazon restaurants) and watched a movie.
On Tuesday, we headed to the mountains.
And on the way, we stopped at the restaurant where they filmed a large portion of Twin Peaks... because I'm kind of obsessed. :) The drive from Seattle to Wenatchee was one of my favorite parts of the entire trip, and once we arrived, we decided to rent a tandem bike and ride around the lake.
...Except we didn't realize it was 10 miles and we only had an hour and a half before the bike rental place closed. It was rough, ya'll.
And after the bike ride that tested the foundation of our marriage, we were both so exhausted that we had no desire to do any further exploring. The next morning, Lucas drove me to Leavenworth before heading back to the airport, and you can read all about my time at the Delight Retreat here.
I know this post is different than most of what you see from me here on the blog, but I've always considered this space more than a home for my professional work. It's somewhat of a public journal, and I love that I've been able to share bits and pieces of my life with you over the years. My desire is that posts like this one help us to feel like we know each other as real people, because I truly want us to be friends. :)
Happy Monday!